Garage Doors, Garage Door Opener, and Garage Door Repair in Edmond, OK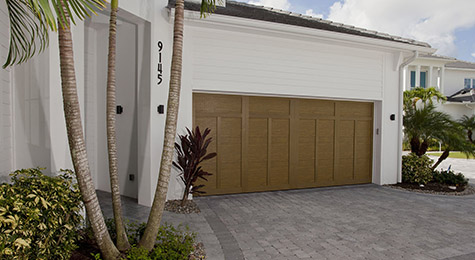 Garage doors have a way of blending into the background in Edmund. Unless that is, you have a garage door installed from Garage Door Systems Inc. With their many different styles and colors, they can help find a garage door that makes a statement and helps your home or business stand out in a way you never thought possible. Or you might just need a new garage door opener, or you have need of some garage door repairs, whatever you need, Garage Door Systems Inc has the knowledge and expertise to get things back to normal.
Garage Door Opener in Edmond
You might not give your garage door opener much thought, except when it doesn't want to work. Perhaps it is time to upgrade your garage door opener for your Edmund home or business. There are great reasons why you should upgrade your garage door opener. First are the battery back-ups that many garage door openers now have. Even if the power goes out, that doesn't stop your garage door opener from functioning. There is nothing worse than getting back from somewhere and finding out that your Edmund home's or business's power is out, and then not being able to get into your garage because the garage door opener isn't working.
Some garage door openers can even be tied into your wifi system. This allows you to open or close your garage door opener through your phone. You can be sure that your home or business is secure with these garage door openers as they will tell you if the overhead door is still open or closed.
Garage Door Repair in Edmond, Oklahoma
Accidents happen, both at home and at work. And sometimes they involve the overhead door, causing the door to be off the track, and maybe even causing other damage to the door or the garage door opener. Garage Door Systems Inc is prepared to address any garage door repairs that you may have and to get things back to working order efficiently. They will check things like the track rail, ensure all garage door wheels are turning properly, make sure that the photo eye is operating as it should, as well as checking the garage door opener for any issues. Your Edmund garage door repairs will be handled with efficiency and professionalism.
The town of Edmond sprang up overnight during the great Oklahoma land run on April 22, 1889, when homesteads were staked around the Santa Fe station. Many of the original streets were named for men associated with either the Santa Fe Railroad or the town syndicate. Edmond is the hometown of Olympic gymnast Shannon Miller, America's most decorated Olympic gymnast. Interstate 35 has been designated as the Shannon Miller Parkway from the Memorial Road exit to the Logan/Oklahoma County line.
---
Residential and Commercial Garage Door Sales, Installation and Repairs
in Yukon, OK, and Surrounding Areas.
405-350-1203